Definition

of the terroir in Champagne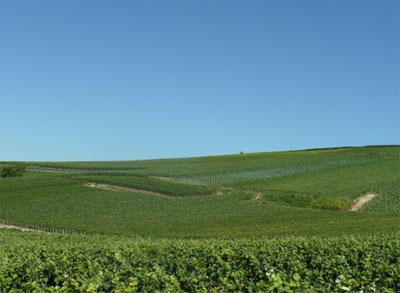 The "vitivinicultural terroir" is a concept which refers to a space on which develops a collective knowledge of the interactions between an identifiable physical and biological environment and applied wine practices, that confer distinctive characteristics on products originating in this space » (source : www.champagne.fr)
---
The vineyard
The plots of vines cultivated by Jean-Michel Rogier, in Serzy et Prin and Faverolles et Coemy, are nestled on the slopes of the Ardre valley.
Grape varieties

Pinot Meunier
This vigorous grape variety is particularly suited to more clay soils, such as those in the Marne Valley, and is better suited to more difficult climatic conditions for the vines. It gives supple and fruity wines which evolve a little faster over time and bring roundness to the assembly. (source : www.champagne.fr)
Pinot Noir
Perfect on limestone and fresh soils, it is the dominant grape of the Montagne de Reims and the Côte des Bar. The wines resulting from it are distinguished by aromas of red fruits and a marked structure. It is the grape variety that brings body and power to the assembly. (source : www.champagne.fr)
For any request for information, prices, delivery or cellar visit, please contact 03 26 97 42 84 or by e-mail.